Damn I suck. I keep meaning to come back and post something, but I always seem to get side tracked. Ugh. I'm gonna throw the last two blogs I've posted elsewhere up here so y'all will be caught up. The first one is pretty damned funny, I think. The last one isn't. Heh.
Here you go!
In Which I Am Scammed By My Only Child
(January 5, 2009)
So, at 630 this morning, Alex came into my room and scared the shit out of me. His alarm goes off 5 minutes before mine, for some reason, and I was actually in a sound sleep. He told me that he didn't want to go to school today cuzz he hadn't slept very well. Seeing as how I was damned tired myself, I wasn't feeling the greatest and I knew it was FREEZING outside, I agreed but told him he had to go right back to bed and it wasn't gonna be something that was gonna happen regularly. He agreed to go back to sleep and I turned off my alarm, effectively assuring that I would forget to call the school to let them know he wasn't going to be there. (Yes, I completely forgot until about 5 minutes ago.)
We played Frog Tennis and Yahtzee and he played his PS2 in his room for a bit. It was a pretty good day. He wanted to play Little Big Planet, which is what he's doing right now.
About 5 minutes ago, I told him that he needed to stop playing the game and work on his spelling words cuzz he has spelling tests every Friday. He told me he didn't need to work on them and offered no other explanation. I told him to get to work on his spelling words before he got himself into trouble. That's when he informed me of WHY he didn't need to work on them.
He has no school tomorrow.
Heh. I called bullshit and made him call his grandma to make sure since she has the calender for the week. She confirmed that he has no school tomorrow.
I texted Becky to tell her I just got played. That's when I learned just exactly how well my one and only child played me.
He has no school Monday, either.
*sigh* I must be losing it. I got played by an 8 year old.
~~~~~~~~~~~~~~~~~~~~~~~~~~~~~~~~~~~~~~~~~~~~~~~~~~~~~~~~~~~
You were a big strapping boy with a boner. Yeah i felt it when we hugged goodbye
(posted tonight, just a few minutes before this)
So, since I MUST have a title for a blog, I figured I'd throw random song lyrics up there. That one sure as shit got your attention, didn't it?
So, things have been relatively shitty the past couple weeks. And by that, I mean shittier than usual.
Let's start with my birthday shall we?
I got a shit ton of birthday wishes, which was awesome. And Becky and Bobbi came up to Patriot and made birthday EXPLODE all over the bat cave (also known as the Dispatch Office), and that was fucking awesome! I already knew I was gonna be spending that night home alone with a sick cat, so while that sucked, it wasn't cuzz I was expecting to go out and do something and then couldn't. What REALLY sucked was what happened with a pillar of the EMS community in Genesee county. Not gonna go into details or anything since anyone who would REALLY care probably already knows. Suffice it to say that the atmosphere at work that day was not ideal and with good cause. And even though no one did anything to make me feel like I did, I wound up feeling like I shouldn't have been having a birthday.
That Saturday my mom called to let me know that my great grandmother was dieing. Seems she had a stroke the day before and didn't pull out of it. Since she was a hospice patient, she wasn't taken to a hospital or anywhere that would attempt to keep her alive. And while I understood that that was how SHE wanted it, I was a bit pissed off that she hadn't been taken to a hospital to be evaluated just to make sure that she had actually had a stroke. I didn't want her to be given anything to extend her life mind you, I knew that wasn't what she wanted, but I was pissed that there wasn't anything being done to simply determine what had actually happened. I think I was hoping that they'd find that she was gonna pull through and be ok. I went and visited her on Monday. She wasn't the gramma I knew anymore. I think she could hear me cuzz there were a few times when it looked like she was trying to crack a smile. I know that chances are really good that it was simply a slight facial tick, but I'm gonna choose she could hear what was being said and thought it was funny.
While I was at work Wednesday, my mom called to tell me that she had passed away.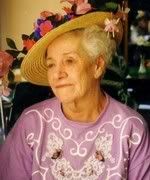 Sallie B. Cheshire, age 87 of Durand, passed away on Wednesday, January 21, 2009. A memorial service will be held at 2:00pm on Saturday, February 7, 2009 at the Linden Lane Apartments, 3095 Linden Lane Flint, MI 48507. Pastor Ron Grindling will be officiating at the service.

Sallie is survived by 2 children: Glenda Foster of Durand, Phillip (Jude) Smyth of Hawaii; 4 grandchildren: Tony (Christine) Foster, Bob Foster, Chris Foster, Gary (Paula) Foster; 5 great grandchildren, 1 great great grandson, Sisters: Ina Risner of TX, Carolyn Smith of MO and Brother: James Cheshire of TX.

Memorials are suggested to the family. Online condolences may be sent at www.watkinsfuneralhomes.com
I worked a 24 hour shift that day due to a call off. I volunteered for it so I could have the next day off. When I was trying to go home Thursday morning, my car decided to give me the big FUCK YOU and not go over 35 MPH the entire way home. I was amused to see that while my Check Engine light never came on, my ABS light did. Heh.
Jesse was supposed to ship out to Kuwait on Friday. They delayed his platoon until Saturday. Then they delayed it again until tomorrow. He has to report by 0400. If his platoon gets delayed AGAIN (they're the only ones that have yet to ship out), Tony gets to drive down there to drive Jesse to base, since his wife and mother-in-law will be driving their only vehicle to Texas tomorrow regardless of whether or not he gets delayed again. (Kat's from Texas and her mom came up to make sure she got down there ok. She was able to extend her vacation through Monday, but she won't be able to extend it again.) Jesse called tonight was I was getting home from work. I'm proud that I didn't cry. He doesn't need that shit right now.
On the positive side, I think I may have accomplished something at work today. It's not gonna be fixed overnight, but hopefully SOMETHING will happen soon. I'm not holding my breath, but I really think I got through.
And that's it. Not a good couple of weeks, but hey. It could always be worse...
And if you're wondering what song I took my blog title from, here's the lyrics.
Asked You First

by Ani Difranco
things can't get much weirder
this can't get much worse
don't know why you wouldn't kiss me
but it's a good thing i asked you first.

you were a big strapping boy with a boner.
yeah i felt it when we hugged goodbye
you gave me an evening i'll never forget
no matter how hard i try.

yeah you were just mister flirtatious
all night just workin' that ass
well you know it's uncool to bring it to school
if you don't want to share with the class

i am just mrs. embarrassed
i feel like a dirty old man
i've got my eye on a guy
that just moved out of mom's house
with his pretty head stuck in the sand

you've earned yourself a place in my memory
by being the one who said no
where are my fucking car keys
i think i'll just go

surprise surprise now you miss me
now that i'm not in your face
surprise surprise now you're calling me
now that you feel safe
do you think that i could be your prom date
you could do us a stiff little dance
except that this isn't high school, baby
and you had your chance
you had your chance

you've earned yourself a place in my memory
by being the one who said no
now where are my fucking car keys i think i should go
hey look! car keys... bye!]


things can't get much weirder
this can't get much worse
don't know why you wouldn't kiss me
but it's a good thing i asked you first.

you were a big strapping boy with a boner.
yeah i felt it when we hugged goodbye
you're leaving i'll never forget
no matter how hard i try

no matter how hard i try
So there you have. And now you're all caught up on my world. Exciting, no?