So, I suck at updating when I say I will. In my defense, I've been training my minion (new dispatcher) and I haven't been in front of the computer. When I get home after work, I'm barely able to eat before I curl up in bed. Seriously, these 80 hours work weeks are killing me. That fucking minion better be trained enough to go on his own soon.
Yeah... Birthday shenanigans. I turned 27 on the 13th. Yippie? I decided to take the 14th off work so I could get pleasantly drunk with out having to be hung over at work the next day. Turned out to not really be needed, even though I decided to drink Long Islands all night. Heheh. Not too many people made it out, but whatever. The only two people I wanted to be pissed off at for not going were Bobbi and Jeremy and how am I gonna be pissed when one had a grandparent die and the other was legitimately sick. Meh. All in all, it was a pretty good time.
Oh yeah. There is photographic evidence in existence.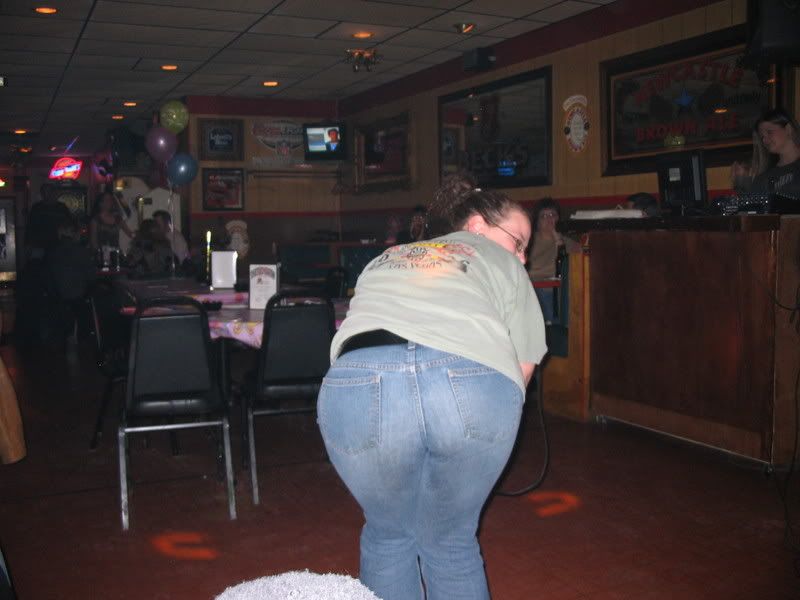 Becky's ass. Just because. I'm not completely sure when and
why
this was taken, but there it is and now it's burned into your mind. Mwahahahaa!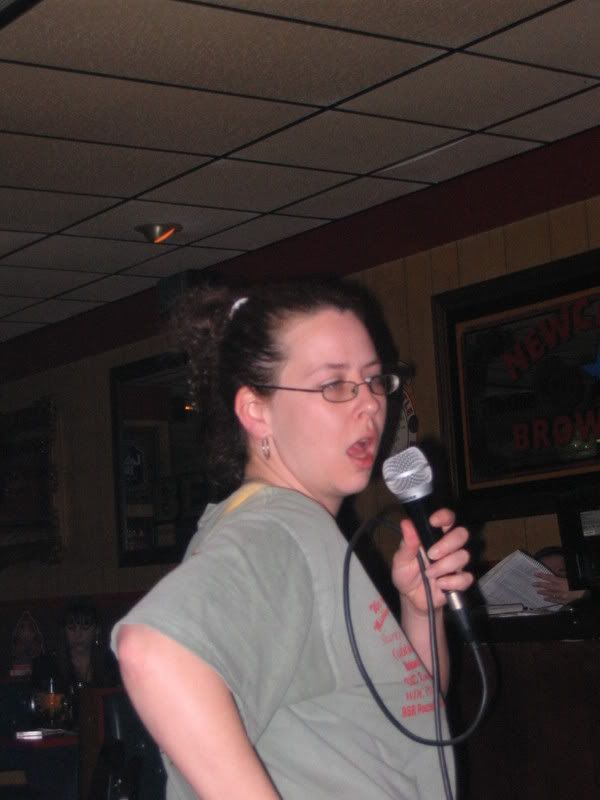 This is Becky singing. I can only assume this was taken shortly before the ass shot, but I have no idea.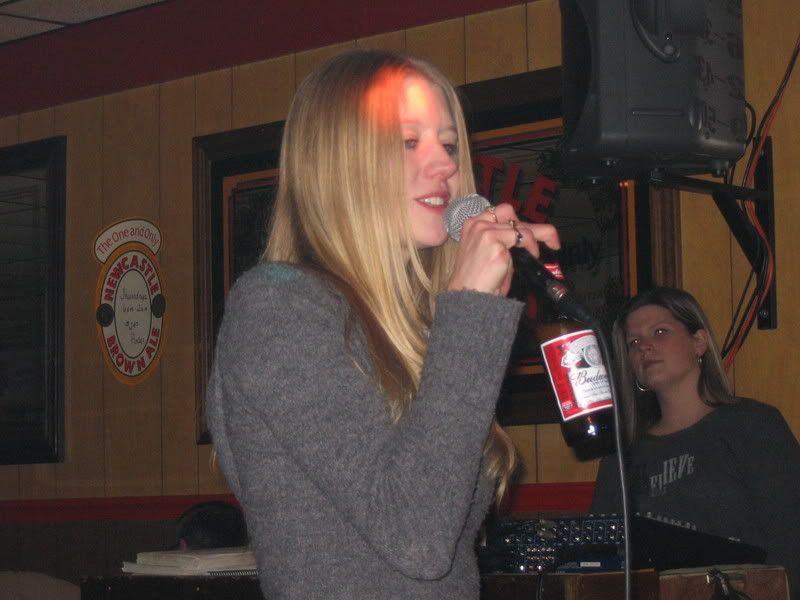 Leara, who has always been very, very skinny.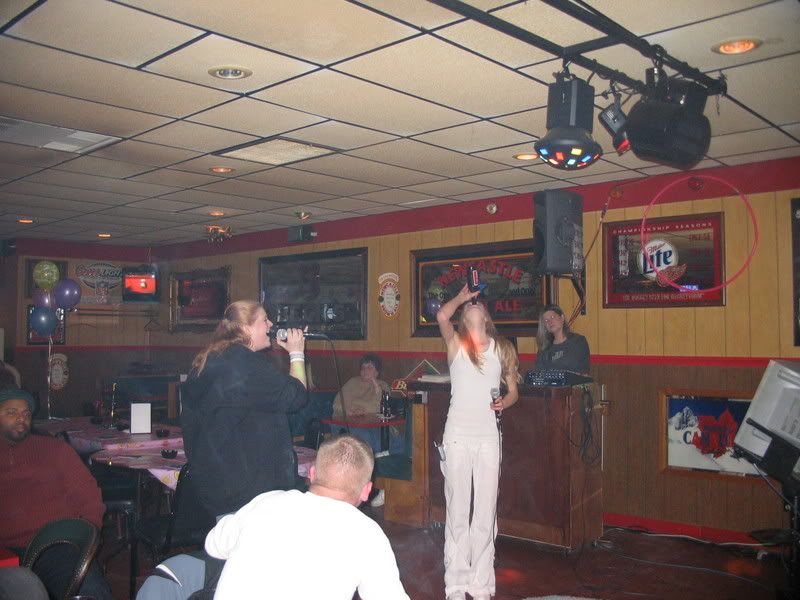 See? Very, very skinny. I've known her since I was 12 or 13 and she actually has meat on her bones now. Believe it or not, she has spit out 4 kids. For real. (Please excuse the black ball in the picture. That hoodie is just SO comfy!)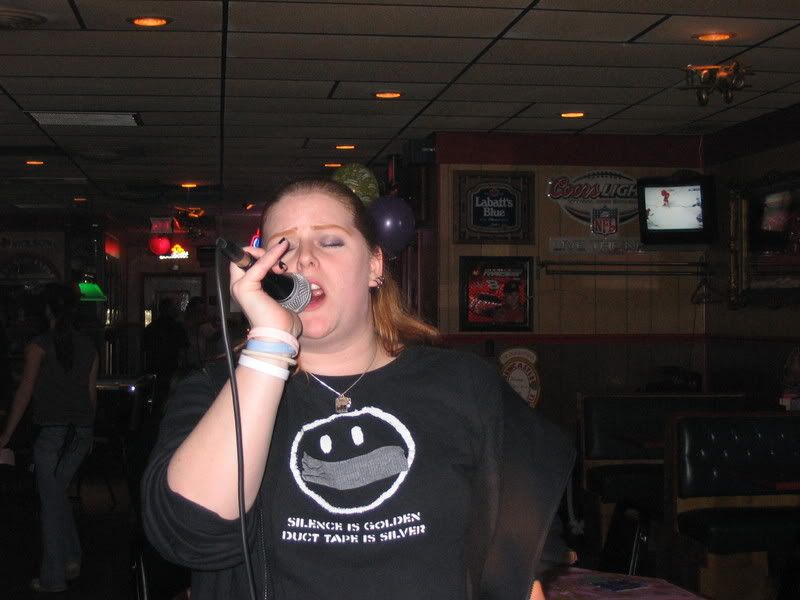 Here I am showing off my drunken
Rock Star
skills. I'm such a badass.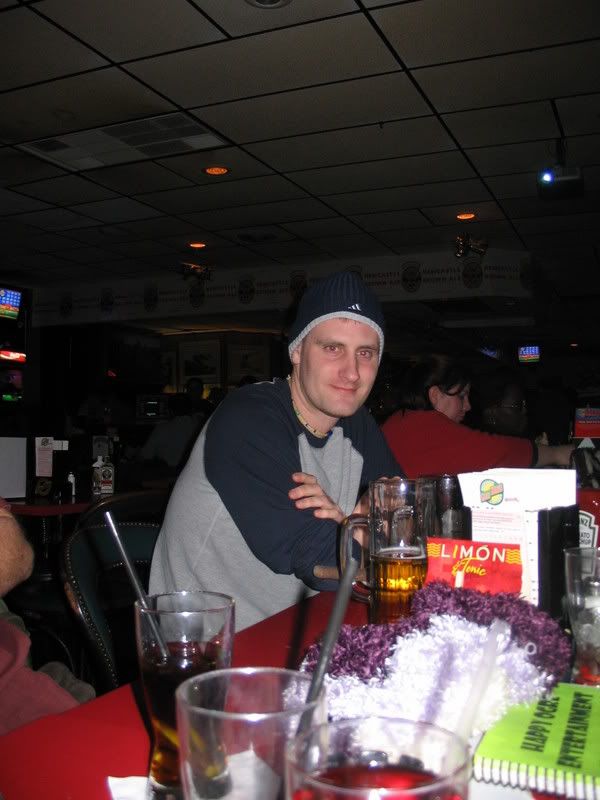 Greg, being a putz. LOL I told him to smile so I could take a nice picture of him and while this one isn't really that bad, he's only smirking and it irks me a bit. The bastard.
The obligatory tongue picture. I must always have my tongue out in
at least
one picture.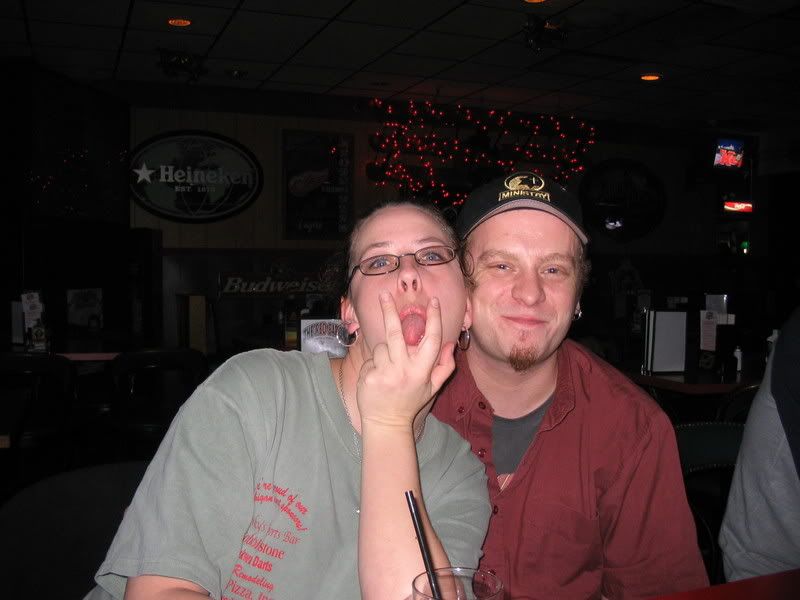 Becky and Chris.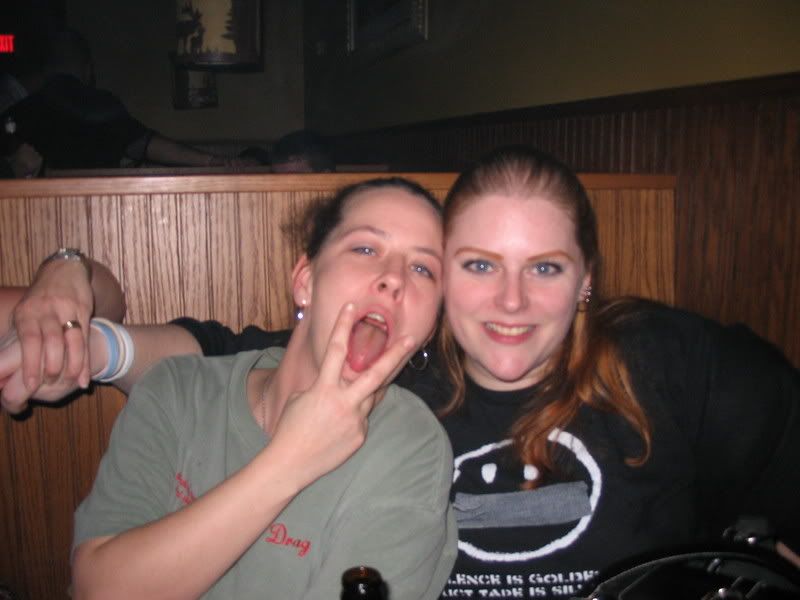 Apparently, this was Becky's pose for the evening.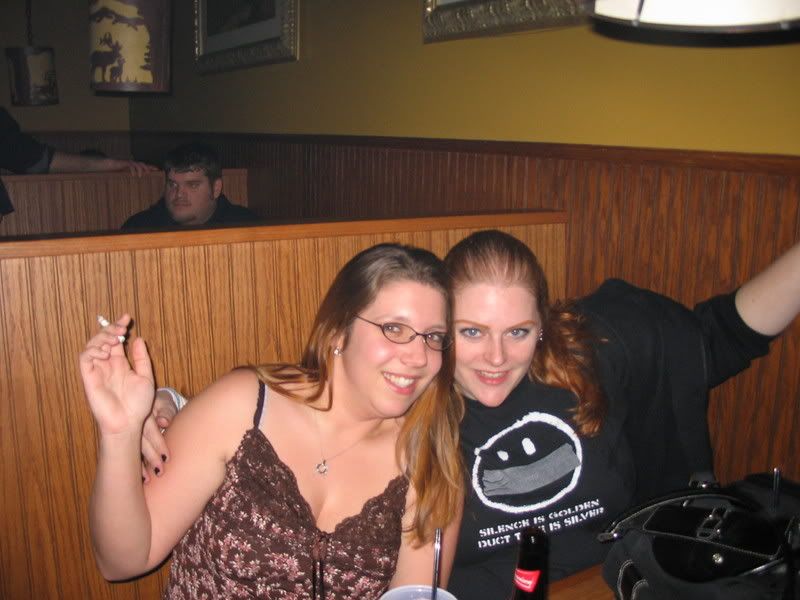 My friend, Naomi. She's the one who gave me my first cigarette cuzz I was pissed off about something and threatened her. Yeah, when I get lung cancer, I'm gonna blame her just to see if she believes me or not.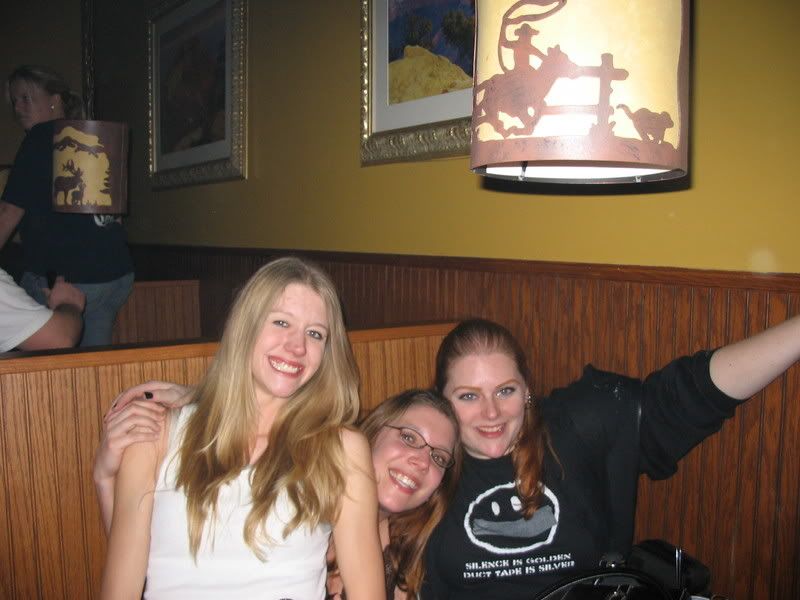 Leara, Naomi and me in a booth at Dakota Lodge. See, Dakota Lodge started out as a restaurant and I liked it. I guess that wasn't bringing in the big bucks cuzz now they've turned it into some retarded nightclub. They still serve food, but I'm not sure how in the hell they can get it to their customers since you can't walk around in there with out rubbing up on people. Seriously, it sucks. I requested a song from the DJ and was told under no circumstances was any kind of rock music supposed to be played. I slammed my long island and we got the hell outta dodge.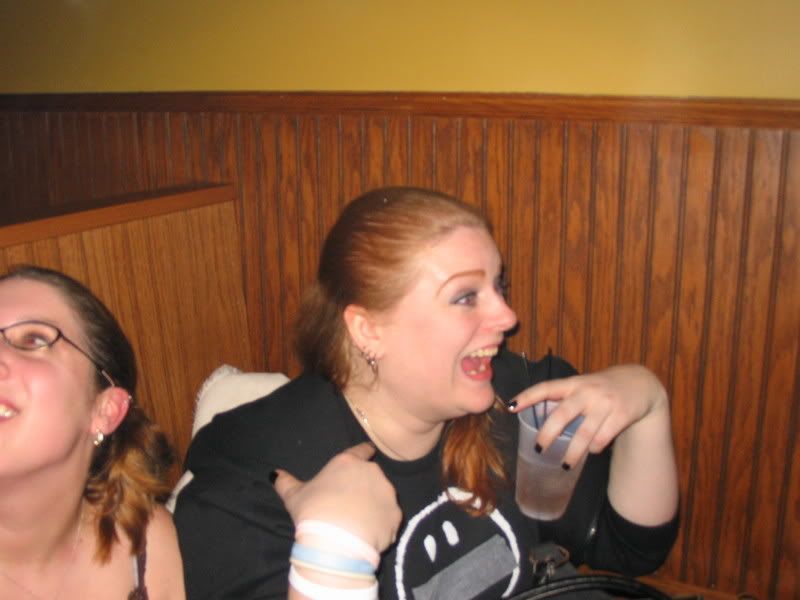 I'm laughing cuzz I think that is when Becky's boyfriend decided to tell me to move my feet cuzz he was gonna piss on the floor. We
really
didn't like that place. No, he didn't actually pee on the floor, though he did seriously consider it.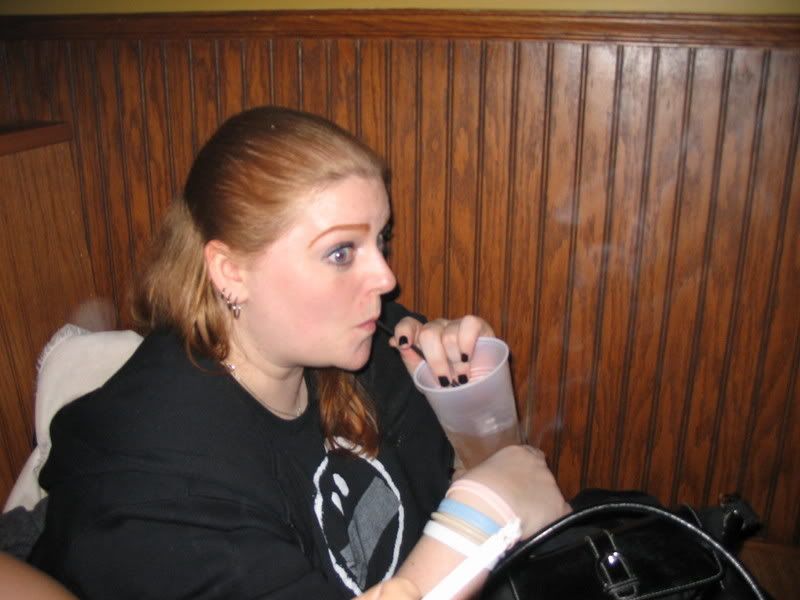 Downing the long island so we can clear the fuck out.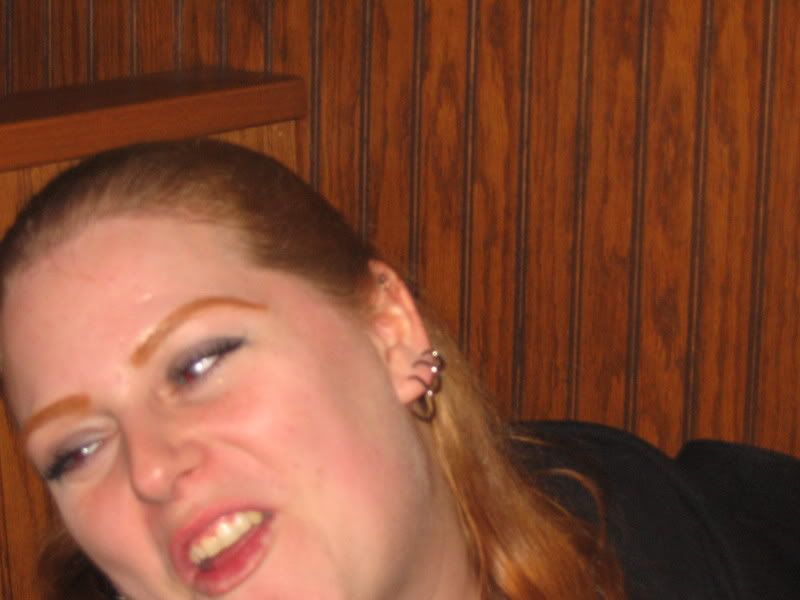 Random picture taken by a random person. Not a flattering picture by any means, but it makes me giggle. Seems that my buttass white skin makes my teeth look very yellow in pictures and my eyebrows look like they could glow in the dark. They're really no where near that bright. And my teeth aren't really yellow like that. I promise.
So, that concludes my birthday shenanigans. We started out at a sports bar, went to a karaoke place, then off to a piece of shit night club/foodery and ended up at The Machine Shop for 80s with Rockstar. Good times.